Design Contours is growing!
Design plays a pivotal role in our success at Berry, from the design and decoration of the products we offer, to our ability to message the advantages of these products (and Berry!) through sales collateral, samples, and our website. Future editions will continue to highlight what's happening here in Blue Clover, alongside news and accomplishments across Berry's network of design teams. The end goals are to expand knowledge of our creative capabilities, stay current on design community news and trends, and promote an interdisciplinary network of creative professionals. If you'd like to share an upcoming design event or recognize a creative success story, please email me at melissafehsenfeld@berryglobal.com!
---
Innovation + Design at Berry
Upcoming Webinar: Child-resistance in Cannabis Packaging
Join Berry's VP of Marketing, Lauren Piekos, and Product Development Director John Vassallo to learn how safety plays a role in cannabis packaging, along with key features and benefits including freshness, portability, and sustainability. To explore the journey of innovating new packaging for a new market, register here and save the invite to your calendar!
Good Packaging Design, Defined
Scott Fisher, Director of Blue Clover Studios, explains in his latest blog post how our design process connects product protection and user emotion in sustainable and innovative ways. In it, you'll learn the hallmarks of great packaging design, including:
Considerations when designing for sustainability
Innovation through function
The significance of form
But don't take my word for it – check out the post here!
2020 Packaging Inspiration Challenge
Deadline Extended to July 31st!  The Blue Clover team is challenging YOU to join us in the exciting field of innovation by bringing recognition to unique and inspirational packaging out in the markets! Some examples might include (but aren't limited to) products with cool dispensing features, premium aesthetics, or an improved or new user experience. Post your product to Yammer with the tag #inspirationchallenge2020, then challenge a coworker. Entries received by July 31 will be entered to win a $50, $25, or $10 giftcard for a cool summer treats or merchandise at Starbucks.  Ideas and inspiration are everywhere – please share!

---
Perspectives from the Field
The Value of Constructive Conflict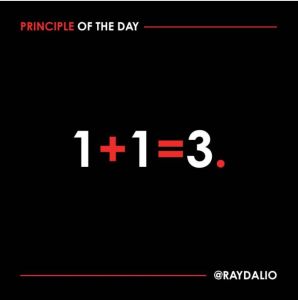 Ray Dalio, CIO of investment firm Bridgewater Associates, recently posted "Two people who collaborate well will be about three times as effective as each of them operating independently, because each will see what the other might miss—plus they can leverage each other's strengths while holding each other accountable to higher standards." By using a solutions-oriented approach to conflicting ideas, we're able to combine our diverse perspectives, and strengths to exponentially increase creativity and innovative power! To learn more:
Calculating the ROI of Design
Companies need to be profitable to survive, so at some point you will likely need to make a business case for a design project. Here's a pretty simple approach to quantify the value of design by defining a business lever (such as increasing profit or decreasing costs), estimating the financial impact, and communicating with hypotheses.
You Don't Know Your (End) Customer Anymore
In this piece from Fast Company, author Todd Rovak offers four steps to keep up as consumer needs and preferences evolve at light speeds during and following the pandemic. (Leading off with "Put your segmentation in a drawer, then lock the drawer.")
New Research. People are already in their homes, where many of our products are used! Prioritize research, consumer insights, and product testing.
New Products. Accommodate changing consumer patterns through rapid innovation, resulting in relevant products for emerging needs.
Play Offense. Design for the near-term "messy middle," characterized by a mix of in-person, remote, and low-touch experiences, to win market share.
Prioritize Safety. Changes in consumer behavior will tie back to heightened disease prevention practices to mitigate the increased risk posed by the pandemic. Within consumer packaged goods markets, we're seeing that via trends in e-commerce, grocery and foodservice delivery, skyrocketing household penetration in cleaning/disinfecting products, and a boost in products that provide wellness or immunity benefits (to name a few).
---
Creativity at Work
Be well,
– Melissa Fehsenfeld
Design Contours is a series of biweekly updates oriented toward helping you stay current on news and trends that are relevant to design work, consumer insights, and brand news within consumer packaging. Please feel free to share feedback or suggest ideas for content you'd like to see in future editions.